Vibrational Wellness through Drumming, Rhythm, Time and Space
Drum Circle at the Midwest Crystal Festival ~ September 29, 2018 from 3:30-5pm
When: Saturday, September 29, 2018 from 3:30pm-5pm. (Weather permitting)
Where: Emmenegger Nature Park, 11610-11642 Cragwold Rd., Kirkwood, MO 63122
Join Stephanie and Matt for a drum circle at the September Midwest Crystal Festival. Bring your hand percussion, rhythm instruments and a chair and vibe in the rhytms of nature. We'll see you then! This is a free community event!
Drum Circles for Events, Parties and Organizational Team Building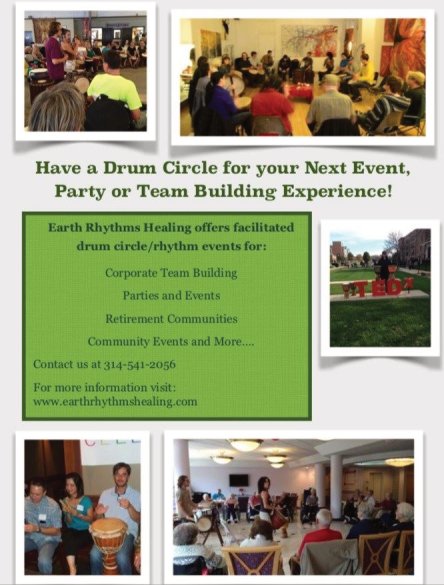 Greater St. Louis.... Have a drum circle at your next event! Perfect for Holiday Parties! Have us come do a drum circle for your next party or group event. We will bring the drums and the fun! Feel the charge of the drum and power of everyone in the rhythm together!
Hawaii island was fantastic! Now we are relocating to Boulder CO. See you there!
Aloha, we will doing a healing intentional drum circle at Coco Wasi's Heal and Be Healed Event, Saturday, July 16th. The event starts at 10am and goes until 6:30. The drum circle is from 5-6:30pm. Bring your drum and other percussion instruments and a chair and join us! All classes and healing sessions are donation based. We appreciate your donation for the drum circle. Suggested $5.
Activating the Third Eye Chakra ~
A Guided Sound Healing Journey
Where: Casa Bagus, 6318 Clayton Rd, St. Louis, MO 63117
When: Friday, November 6, 2015 from 7:30-8:45pm
In this vibrational sound healing experience, Stephanie Kusmer of Earth Rhythms Healing will discuss the history and significance of the Pineal Gland also known as the "Third Eye", "Ajna Chakra" or the "Seat of the Soul", and how it is being rediscovered today. 
Stephanie will then guide the participants in a sound healing meditation with her metal tongue drum tuned to the key of A to open up and journey into the "Third Eye Chakra".
 Take some time for yourself and experience the healing benefits of this unique and enjoyable evening. Please bring a yoga mat or blanket. There will also be some available if you don't have one. You will feel very expanded from this experience!
Benefits of activation:
·     Improved mental clarity and intuition
·     Ability to see larger patterns and expands consciousness
·     Improves psychic abilities, telepathy and empathy
·     Improves cognition and imagination
·     Assists in going into deeper states of meditation
Casa Bagus is an inclusive community dedicated to the joyful and conscious personal development of each individual through spiritual practice, educational programs, workshops and personalized holistic wellness services. For more information about Casa Bagus click here 
http://casabagus.com/
TEDxGatewayArch Event Catalyst
Where: Harris-Stowe University, 3026 Laclede Ave, St. Louis 63103
When: Saturday November 7th, 2015 at 9:30am - 4:30pm (drum circle at noon-1pm)
Earth Rhythms Healing will do a drum circle for the TEDxGatewayArch Catalyst event. Enjoy a full day of great speakers and great company. Spend time between speakers mingling with TED-focused exhibitors and enjoying our delicious local snacks and drinks. Don't miss our third annual event – tickets sell out every year, so don't wait! Check out the website and to purchase tickets for the full day event: 
http://tedxgatewayarch.org/catalyst/
/